Aug 3, 2022 09:46 PM Central
Kait Palmer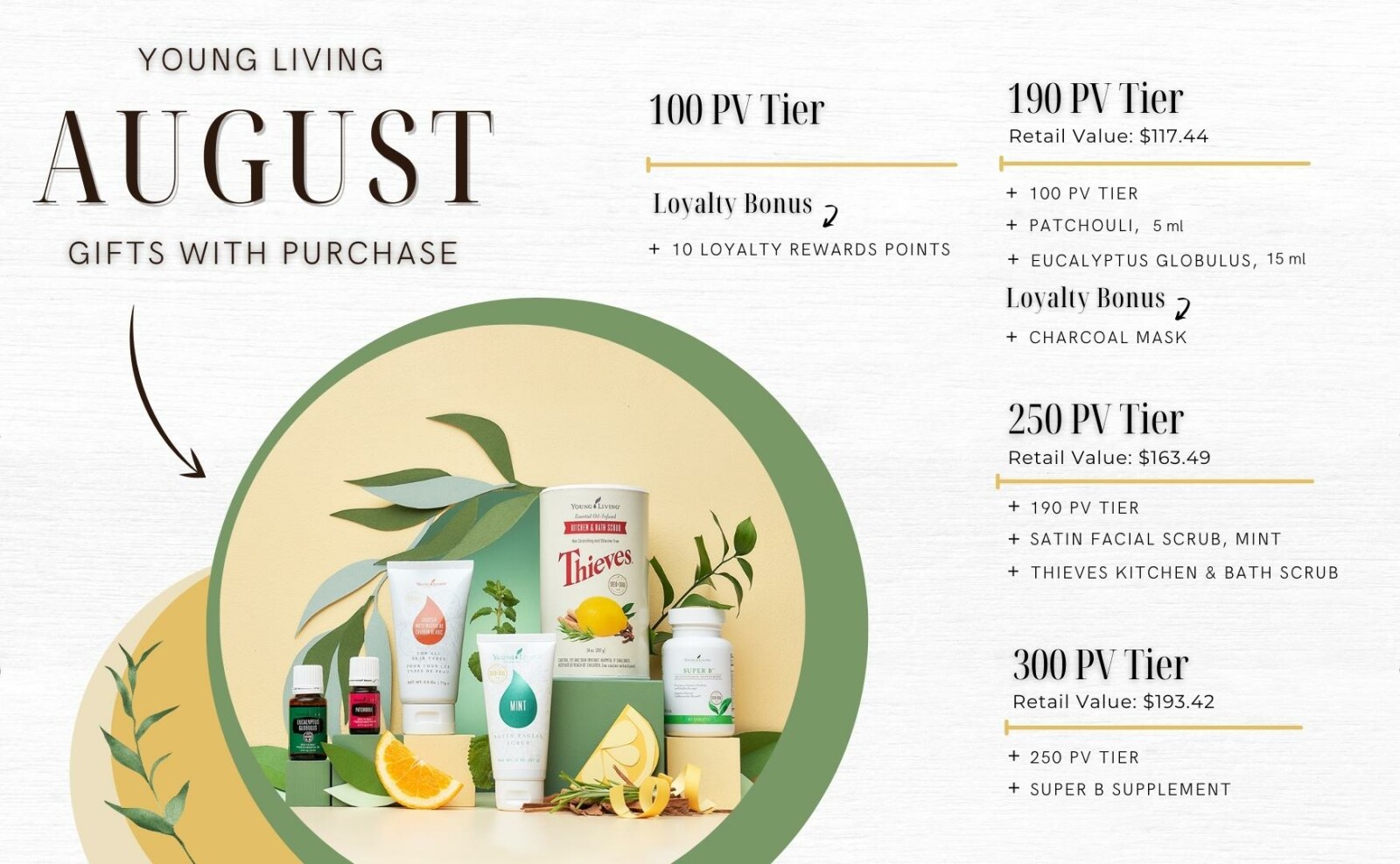 In 2006 I was hit with my first migraine, and after going the completely conventional route for a number of years I gave up on the doctors and decided to start my own research.
I was the one who finally figured out that my migraines were tied to my hormones, so I set out to discover what affects your hormones. Guess what? EVERYTHING DOES! There are a bajillion *approximately* things that are endocrine disrupters...meaning they mess with your endocrine system which controls your hormones! So I set out to clean up our home environment.
I was overwhelmed.
Whoa.
My shampoo is being absorbed into my skin?
The soles of my feet will absorb leftover cleaning product?
My shower liner is off gassing?!
I still have that book I first bought--Easy Green Living by Renee Loux--and I actually enjoy looking through it to see how far we've come. What seemed crazy at first, after years of transforming and research, is now just a given. Of course I don't use the microwave anymore!
But if you're where I was all those years ago...just learning about how your household products and cleaning products and EVERYTHING is affecting your body...have no fear! Things are MUCH easier to switch to "green" things now than a decade ago! And my #1 resource? Young Living of course.
You don't need to throw out everything you own right now, but maybe go room by room and start making some simple changes. Another way I transitioned was when I ran out of something--facewash for instance--the next timeI bought that I made sure I knew all of the ingredients were clean and safe.
The freebies this month are awesome for doing just that! Read on for lots of recipes and ways to use these freebies!
Before we get to all that, let's make sure you are ordering your wellness the very best way possible and that, is through Loyalty Rewards! When you order 100 PV on your Loyalty Order you get 10 extra points! That's like $10 to use on a future purchase!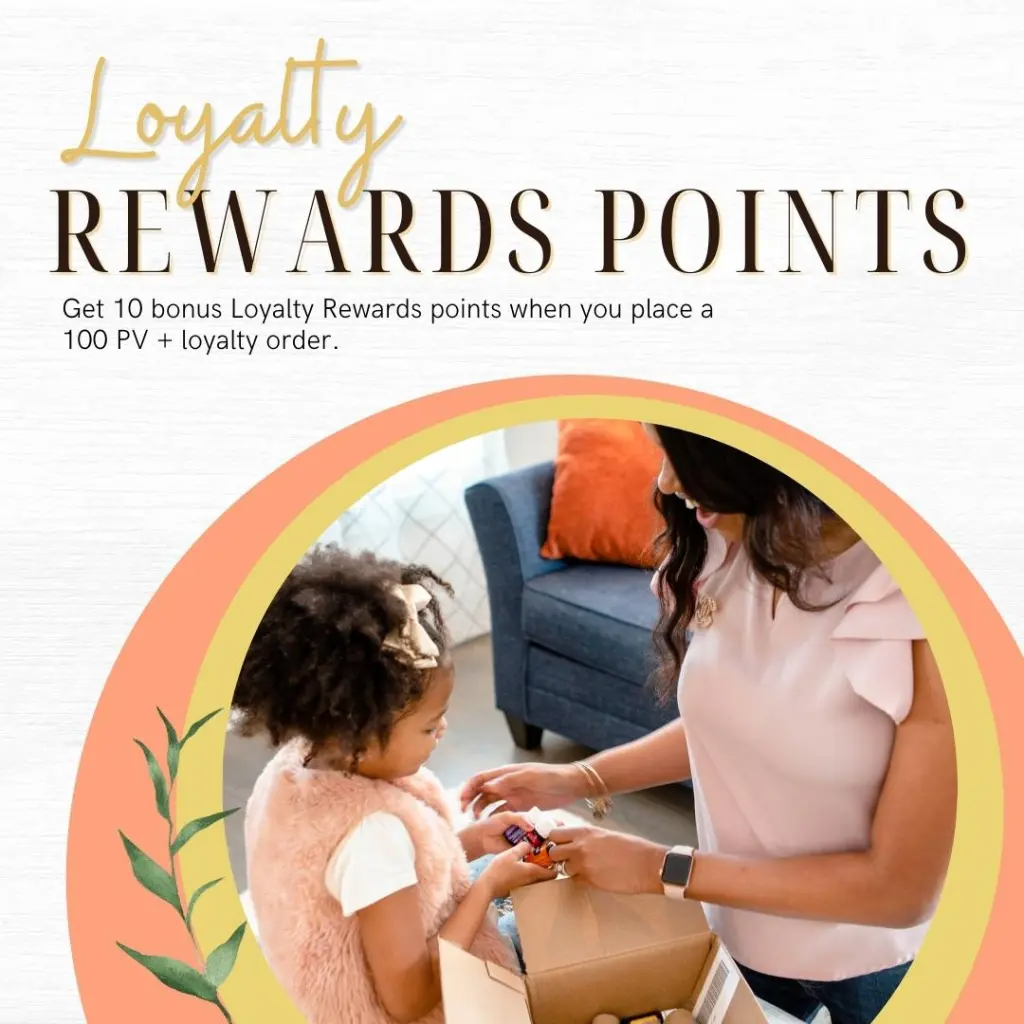 This is Young Living's monthly subscription box that YOU design! Every month you can ensure your essential wellness items are delivered with ease or, change it up every month to try something new! The choice is yours but the best part is: you earn additional gifts AND loyalty points to redeem towards the product of YOUR choice!
For more information on how Loyalty Rewards Subscription works, be sure to check out the virtual office or comment below and I can walk you through your questions.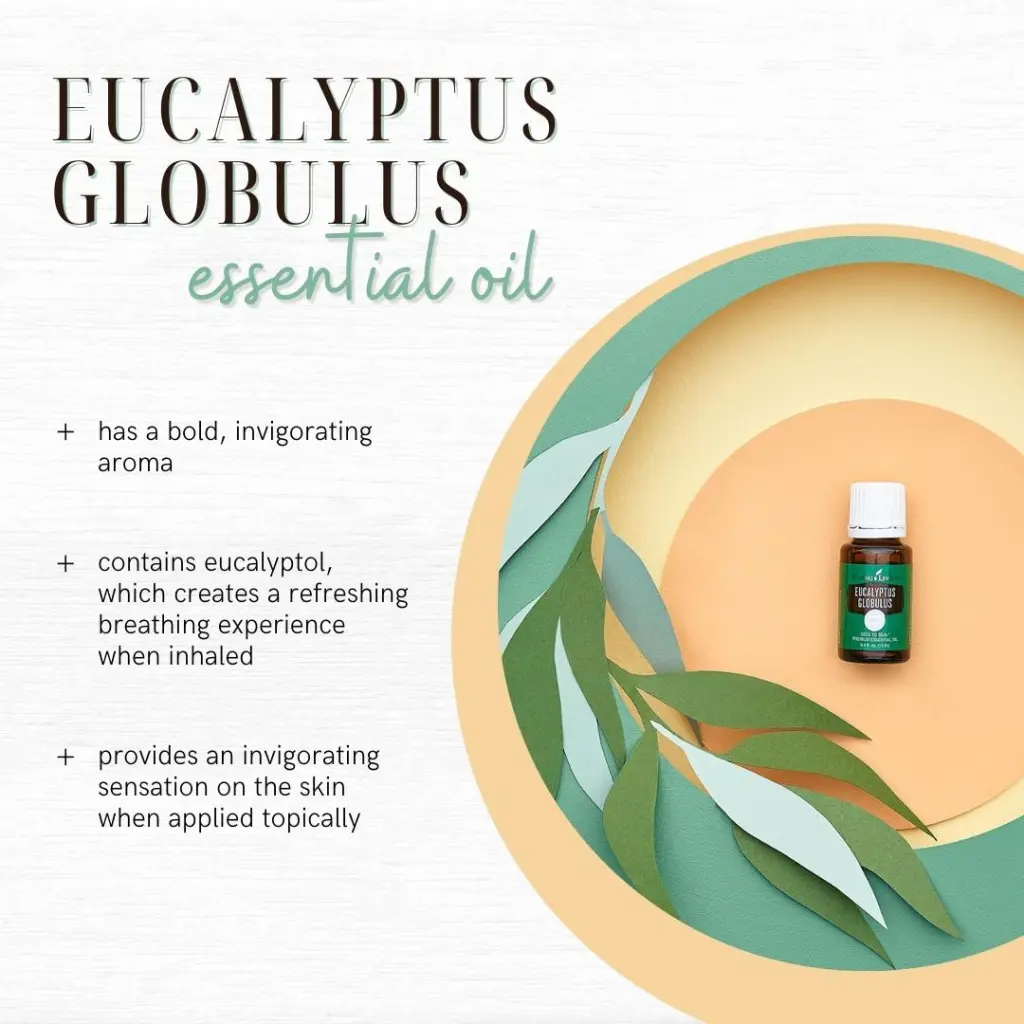 ■ EUCALYPTUS GLOBULUS
essential oil
15 ml
no. 3539
It's all about breathing easy with deep, full and incredible breaths! This is such a staple oil to have year round - but especially when we need to take a moment to reconnect, get centered, and "just……. breathe"
Before a workout, before heading outside or to wake up our entire body system and get a reset, this is the perfect oil to reach for. Eucalyptus reaches deep into the lower regions of the lungs so it makes it a perfect companion to pair with any oil you apply to your chest by simply inhaling deeply from your hands.
Think of it as: a breath of fresh air, with a reset.
Eucalyptus Globulus, commonly known as southern blue gum, is a species of tall, evergreen trees native to Southeastern Australia. It is one of the fastest growing eucalyptus - growing up to 6 feet each year and under ideal conditions can reach up to 330ft. The leaves of this tree are steam distilled to produce an oil with naturally occurring eucalyptol, which is a constituent that provides an invigorating sensation on the skin when applied topically and creates a soothing spa-like experience when used aromatically. This oil is perfect for respiratory AND emotional support! Yes, emotional support! This oil delivers emotional clarity, and confidence! Think of it as being able to clear the way so you can see your goals and greatest self with incredible fresh clarity!
HISTORICAL USE
Aboriginal inhabitants of Australia used the eucalyptus leaves to bind up serious wounds to assist in the restoration and recovery process.
HOW TO USE
• apply to chest and neck before working out to help open up the airways and assist in incredible breathing and energy for your workouts
• apply to Vita Flex Points or directly on area of concern
•Apply a few drops to your hands, and inhale deeply. As you exhale, clear your lungs completely by twisting your torso as far as you can. Think of it as "wringing out your lungs" as you twist, and exhale fully. Repeat, on the opposite side. (This is a fantastic oil to use while stretching or doing restorative yoga!)
• diffuse for a quick and easy escape to the spa!
• add a few drops to the shower wall to create a spa-like effect before your morning shower
• apply under the nose for quick congestion relief; you may wish to dilute with a carrier oil when using topically.
• Massage this oil into overworked or tired muscles for a cooling and calming sensation.
• Diffuse Eucalyptus in the afternoon around your home or office for an energizing and clean aroma.
• Combine with coconut oil or another carrier oil and apply topically on your chest before bedtime.
• Make your own DIY massage cream and apply after an intense workout.
• Add a few drops of Eucalyptus Radiata to your Thieves Household cleaner spray bottle.
PAIRS WELL WITH
• Geranium
• Lavender
• Lemon / Jade Lemon / Lemon Myrtle
• Sandalwood
• Juniper
• Lemongrass
• Melissa
• Pine
• Thyme
NOTE INTENSITY: 5
FROM THE ATELIER WITH MELISSA
*a pre-shower* Shower Spray
25 drops Eucalyptus
15 drops lemon
1oz Vodka
5oz water
Before turning on the water, spray the shower area generously for an absolutely invigorating aroma. Optional: add a few drops of Geranium.
DIFFUSER BLEND:
Diffuse equal drops of
- Eucalyptus
- Geranium
- Orange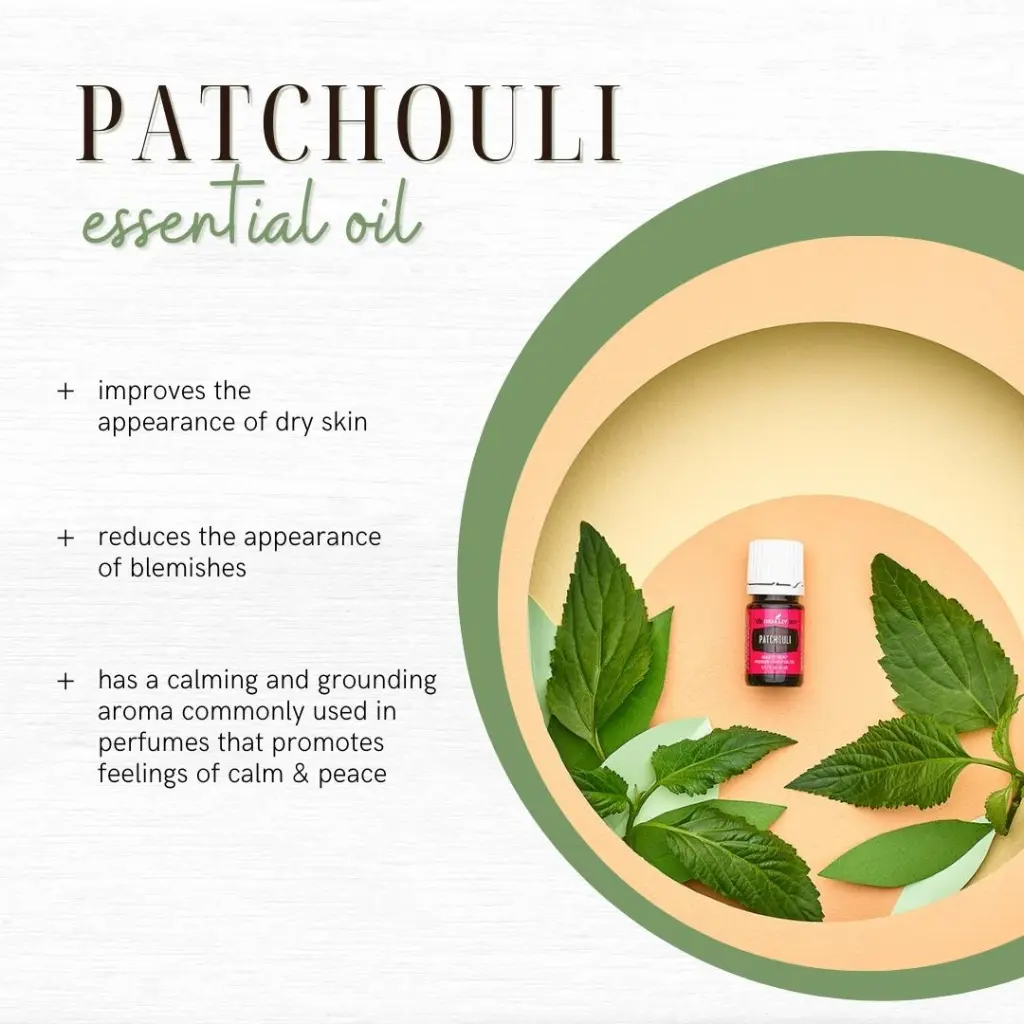 ■ PATCHOULI
essential oil
5 ml
no. 3608
This oil has been used to relax the mind and clarify thoughts for HUNDREDS of years. It also grounds the body and allows us to stay in the present moment rather than going into undesired and overwhelming thoughts which are beyond our control.
Patchouli is incredibly versatile and provides a strong aromatic note whether diffusing, applying it topically, or in parfumes.
Patchouli is an herb in the mint family, and its leaves were traditionally used in herbal tea. The dried leaves of the patchouli plant are steam distilled to create this serene oil. The aroma of patchouli essential oil is said to be more powerful than any other oil derived from an herb. The naturally occurring constituent patchoulol contributes to the earthy and grounding aroma. It blends well with other oils and imparts strength, alluring long-lasting qualities to essential oils, especially when used in parfumes.
HISTORICAL USE
The patchouli plant Pogostemon Cablin is native to Indonesia, which later became introduced in India in 1834. Patchouli essential oil, on the other hand, is one such product that originated and popularized from Indian indigenous practice. Even the name 'patchouli' originated in India. It phonetically evolved from the word 'pacchilia,' which means "green leaf."
HOW TO USE
• Patchouli is also wonderful in a daily skin routine. After washing your face, with still damp hands and still damp face, apply a drop of Patchouli for an absolutely incredible facial that will leave your skin feeling like silk!
• add a few drops directly to your facial wash to help promote the appearance of clear skin
• Dilute and apply to the abdomen when you aren't feeling well and need to halt the reflex to vomit.
NOTE INTENSITY: 4
PAIRS WELL WITH
• Bergamot
• Clary Sage
• Frankincense
• Geranium
• Ginger
• Lavender
• Lemongrass
• Myrrh
• Pine
• Sandalwood
FROM THE ATELIER WITH MELISSA
LIVING ROOM SPRAY
Lavender 5
Cedarwood 3
Cistus 1
Patchouli 2
Palo Santo 5
50:50 water:vodka
EVERY. SINGLE. MORNING.
1 drop helichrysum
1 drop patchouli
1 drop frankincense
With just a still damp face after washing, I apply these 3 directly to my skin.
(You can mix these into a serum vial, with a thin viscosity base or, simply use directly from the bottle which is my personal preference)
*warning* your morning routine will never be the same again. Nor will your skin. Or your morning emotions. Or the mind-blowing aroma wafting from your personal bathroom.
You're welcome.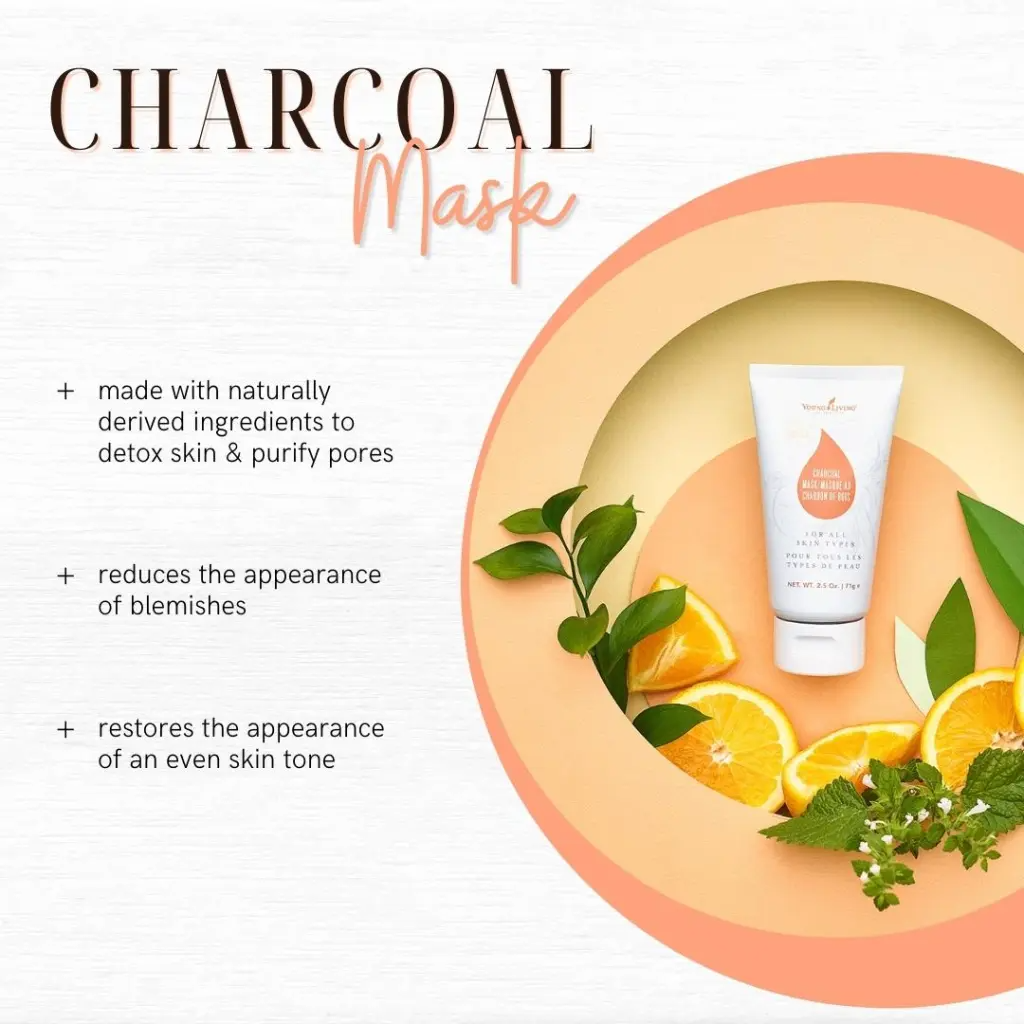 ■ CHARCOAL MASK
skincare
2.5 oz.
no. 35061
"Visibly and INSTANTLY clears the complexion" THIS is the power of The Charcoal Mask by Young Living. It is the ultimate pampering tool that helps rid impurities on your skin. When using an exfoliating mask, the last things you should have to worry about are harsh, synthetic ingredients. Using naturally derived ingredients to support healthy looking skin, without synthetic alternatives, is what makes this product top shelf!
Ingredients like Tahitian volcanic black sand gently exfoliates the skin for a softer, glowing complexion, while activated charcoal from China and South Africa helps absorb impurities to detox skin, purify pores, reduce the appearance of blemishes, and restore the appearance of an even skin tone.
Made with salicylic acid, a blend of fruit-derived alpha-hydroxyacids (AHAs), and Peppermint essential oil, this mask supports the appearance of brighter, smoother, and clearer skin.
KEY INGREDIENTS
• Activated charcoal: Sourced from China and South Africa, our activated charcoal absorbs impurities, naturally purifies and detoxes skin, and has powerful adsorptive properties, thanks to its very fine particle size.
• White kaolin clay: Ethically sourced from the United States, our white kaolin clay absorbs excess oil and impurities without stripping the skin of necessary moisture, leaving it matte, soft, and radiant.
• Gray kaolin clay: Ethically sourced from Spain, this clay has a rich sulfur content, which helps to control skin imperfections.
• Volcanic black sand: Sourced from Tahiti, this sand is formed from the erosion of basalt volcanic rock. It gently exfoliates the skin, leaving it feeling soft, radiant, and glowing.
• Fruit-derived AHAs:This gentle, natural blend of alpha-hydroxy acids (AHAs) from bilberry, orange, lemon, sugarcane, grapes, and sugar maple provides five different targeted acids that safely and gently exfoliate by causing the skin to release dead skin cells for a softer, smoother, more radiant complexion.
• Peppermint premium essential oil†: Peppermint essential oil contains menthol, which soothes and cools.
• Orange Blossom essential oil blend: Lavender,Patchouli, Lemon, and Rosemary premium essential oils give an invigorating, pleasant citrus aroma
•Exfoliates, moisturizes, and detoxes skin for a smoother, more radiant complexion
•Creates a tingling, tightening sensation to let you know the ingredients are hard at work delivering results you can see and feel (Some may even experience temporary redness, which is normal from increased circulation and stimulation.)
•Free of comedogenic oils and formulated specifically for combination to oily skin
•Dermatologist tested, hypoallergenic, non-irritating, and cruelty free
•Helps control excess oil and shine and promotes clears kin
•Formulated without parabens, phthalates, petrochemicals, synthetic preservatives, synthetic fragrances, or synthetic dyes
HOW TO USE
• first, cleanse your face with a gentle, non-irritating cleanser
• apply a thin layer of the mask to your face
• allow to harden for approx. 5-20 minutes (for dry and sensitive skin, 5-10 minutes)
• once the mask has changed color and is hard, rinse with warm water to remove
• complete the rest of your skincare routine being sure to moisturize
• Use as needed or as a spot treatment
Consumer study feedback:
• 100% said their face felt clean and detoxed after use
• 95% said their skin felt smoother and appeared clearer after use
*Based on a consumer perception study of 19 subjects ages 25-55 with all skin-types after one use. ONE USE!
PAIRS WELL WITH
• charcoal bar soap
FROM THE ATELIER WITH MELISSA
SURPRISING "POST TICK REMOVAL" PROTOCOL
• Purification
• Orange Blossom Charcoal Mask
After you have safely removed the tick, dab a bit of purification on the area where the tick was, and then apply a bit of the Charcoal Mask over that to help purify and soothe the area while the charcoal helps to pull out residual impurities from the site.
Get out there and enjoy the day!
ARM PIT PROTOCOL
Sometimes transitioning to a natural deodorant can cause minor skin irritation as the pH adjusts. If you find you need an extra step assisting with this process to balance, you can use a bit of the Charcoal Mask by simply applying to your underarms just as you would on your face! (you will have to let them dry for 5-10 minutes)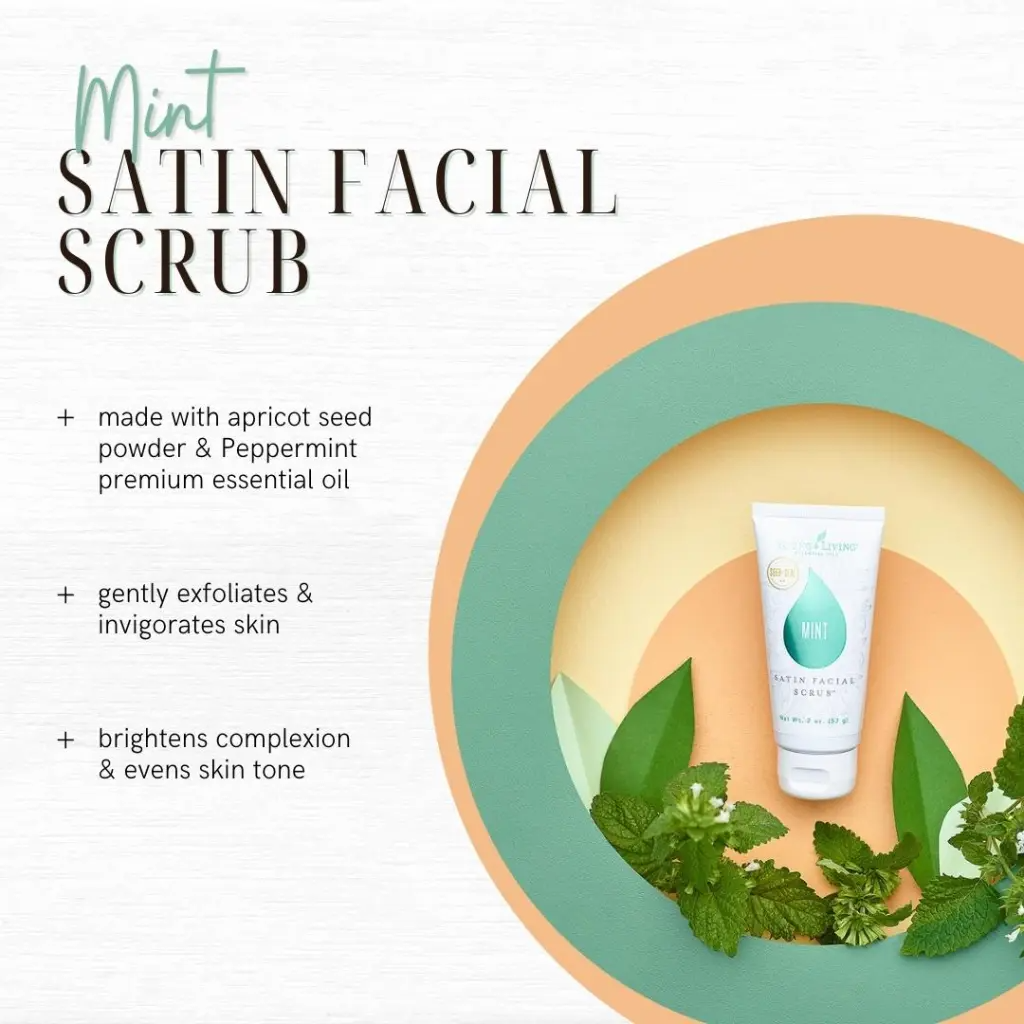 ■ SATIN MINT FACIAL SCRUB
skincare
2 oz.
no. 20454
This gentle exfoliating scrub helps eliminate dead skin cells and is enhanced with the soothing ingredients of apricot seed powder, mango seed butter, as well as an invigorating touch of peppermint essential oil. It is suitable for all skin types, and may help promote an even skin tone when added to your skincare routine.
WHY EXFOLIATE?
Exfoliating helps to clear dead skin cells faster, helping the skin to appear visibly brighter, and smoother.
Have you ever exfoliated before shaving? No?! Get ready to have your entire life changed!
When you exfoliate before shaving (men, and women!) it helps to remove dead skin cells that are in or around the hair follicle for a closer shave, resulting in a cleaner cut and smoother legs. This is especially beneficial for shaving the bikini area to help reduce the appearance of irritated skin after shaving. (*see below: The Art of Shaving for complete steps on how to do this accurately!)
Let's not stop there:
Exfoliate your hands, feet, legs, before applying moisturizer for incredibly smooth and healthy skin!
AS PART OF A SKIN CARE ROUTINE
• wash face, and apply a warm damp cloth to open pores
• massage a pea size amount or more onto clean, damp skin using gentle circular motions for approx. 30 seconds or longer to help remove dead skin cells, and promote circulation.
• rinse with warm water and pat your face dry
• immediately follow with ART toner to help bring the pH of the skin back to it's optimal level and close pores
• apply your essential oils of choice as part of your skincare routine
• optional: apply a cool damp cloth to face to help close the pores
• apply your serum (ART Serum, Bloom Essence or Balance Essence)
• apply your moisturizer
• for best results exfoliate every other day
AS PART OF HAND CARE
• apply desired amount of exfoliator to dry hands and work into skin thoroughly
• rinse with warm water
• apply a generous amount of lotion of choice to hands and let sit for a few minutes (I suggest the Lavender Body lotion)
• wipe off excess lotion with soft cloth and work remaining lotion into skin until fully absorbed.
THE ART OF SHAVING
Perhaps, if we think of it as a beautiful process, our perception of this ritual will become a beautiful one as well.
Well, a girl can hope, can't she? After all, there is just something that feels so incredible about having smooth legs.
Smooth legs, free from irritation …. is that even possible?
Oh Sweet Ones, the answer is yes. Yes to all of the above!
Let's sharpen our razor and talk shaving for a moment!
I want to invite you to give this task a little upgrade and I have a feeling, you are going to LOVE the results!
W A R M
Bathtub is best, it's always a great idea to have the area to shave, exposed to warm water for a bit first to soften the hair follicle. If you can't do this, use a warm cloth in the shower to hold over the area for a few moments.
E X F O L I A T E
Yes, exfoliate the area to shave with some Satin Mint Exfoliating scrub. Getting into the hair follicle and removing dry skin from the area helps you get a MUCH closer, and cleaner shave!
C O N D I T I O N
Wait.. conditioner?! what?! Yes... I DITCH the shave cream, and I use Copaiba Vanilla Conditioner. In advance, you are very welcome for this ever life changing tip!
H Y D R A T E
Using your Mirah Shave Oil or Sweet Almond Oil or other base oil, AND, while your legs are still wet, apply a generous amount of oil AFTER shaving. (I know, your entire world just changed, didn't it?)
D R Y
Just simply pat dry with a towel
FROM THE ATELIER WITH MELISSA
• For a deeper, more intense exfoliating experience, add a pinch of baking soda to the face scrub
• For vibrant skin that has been kissed by the sun…. Crush Super C chewables into a powder and keep in your vanity drawer to add just a pinch of to your Satin Mint Scrub for extra exfoliation with a burst of Vitamin C!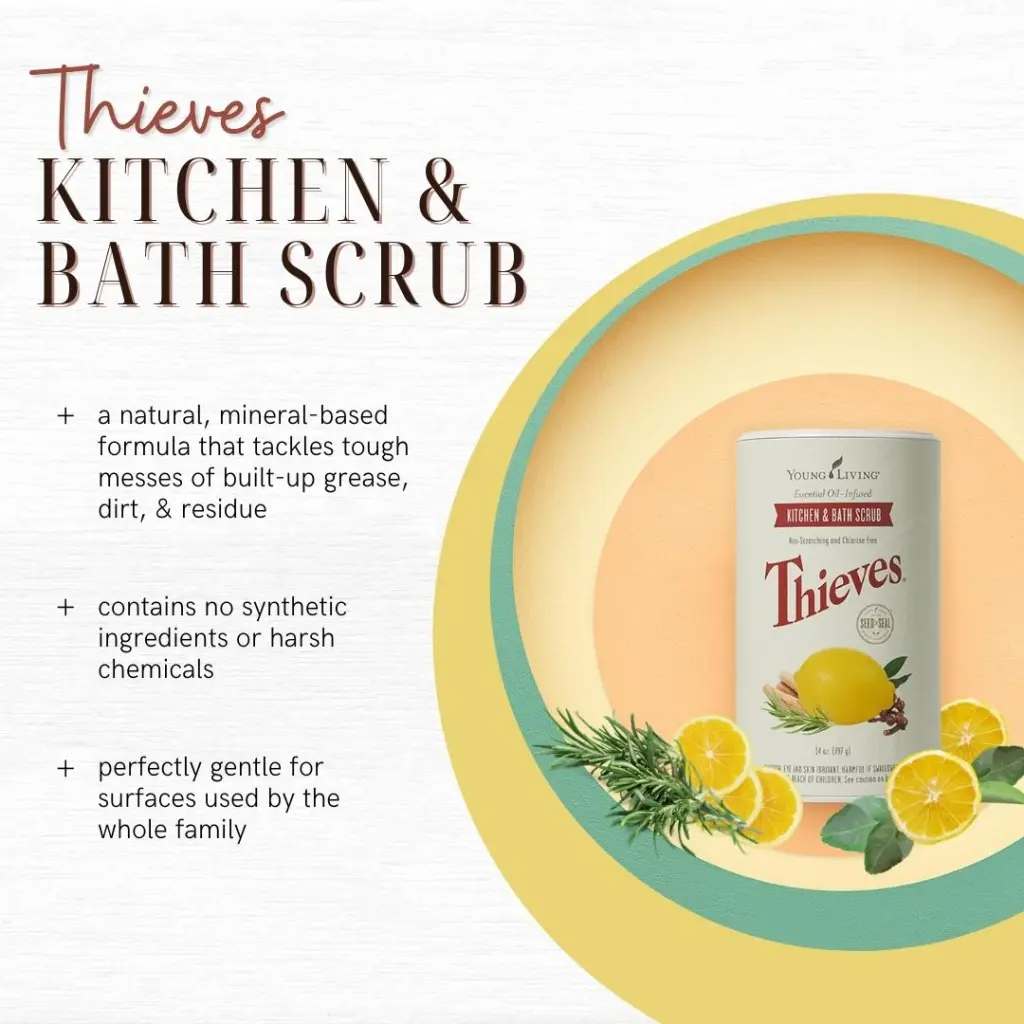 ■ THIEVES KITCHEN & BATH SCRUB
house keeping
14 oz.
no. 30662
Thieves Kitchen and Bath Scrub gives you the power of a surface scrub free of harmful chemical smells and residue. Thieves Kitchen and Bath Scrub gains its tough scrubbing power from nepheline syenite, a mineral we obtain from responsibly mined sources in Ontario, Canada; baking soda that gently absorbs odors; sodium percarbonate that releases oxygen when combined with water, providing a powerful boost of cleaning power against tough stains; and Young Living's signature Thieves blend. Designed for use on multiple surfaces, Thieves Kitchen and Bath Scrub is your new naturally derived cleaner: tough on messes and safe for your family. It is also safe on surfaces such as brass, bronze, porcelain, ceramic, copper alloys, fiberglass, Corian, and chrome - when in doubt, spot-test a small area.
This scrub is a necessity for SO many reasons!
Wondering what makes this cleaner so powerful? Let's break it down.....
NEPHELINE SYENITE
• higher in Alkaline, this is ideal for removing residue from oils, fats, greases and proteins
• acts as a filler to reduce the appearance of scratches
• is a holocrystalline plutonic rock
SODIUM BICARBONATE
• baking soda. This is literally, baking soda
• is alkaline
• helps whiten
• reduces odors (good thing it's going down the drain, folks)
CITRIC ACID
• effective at removing soap scum, hard water stains, calcium deposits, lime, and rush
• acts as a natural preservative
SODIUM PERCARBONATE
• this, is "soda ash" or more commonly "washing soda" (Yes, the same washing soda I've been telling you to keep in your laundry room for years as a boost, or to use in your DIY laundry soaps
• Ok, ready for this one? Sodium Percarbonate is transformed into HYDROGEN PEROXIDE & SODIUM CHLORIDE in the presence of WATER! BOOM: this is your "natural bleach" my friends! (no, this won't destroy your colored fabrics)
ALKYL POLYGLYCOSIDE
• derived from plant starch, and fatty alcohol from coconuts
• safe for sensitive skin
• enhances the formation of foam (there's your bubbles and foam that you always want, Sweet Ones!)
SODIUM ACETATE
• is a salt
• holds the pH of the formulation in tact
• helps remove grease
ESSENTIAL OILS
• for endless benefits
HOW TO USE
•directly sprinkle Thieves Kitchen and Bath scrub into the toilet bowl, scrub with toilet brush, let sit, and flush for a sparkling basin (without the harsh, hazardous chemicals)
• Easily clean cookware, stove cooktops, countertops, tile, grout, bathtubs, faucets, toilets, backsplashes, barbecue grills, outdoor patio furniture, and exteriors without scratching by using a damp sponge or dish rag
• Remove grease, dirt, grime, residue, and tough stains from most surfaces without harsh chemical smells or residue (using a brush may be beneficial for harder surfaces)
•Use it to naturally tackle soap scum, built-up grease and grime, and hard-water stains in the kitchen and bathroom
• Keep it on hand for cleaning grills and barbecues after picnics.
PAIRS WELL WITH
• Thieves household cleaner
• Thieves dish soap
• Tea Tree Essential Oil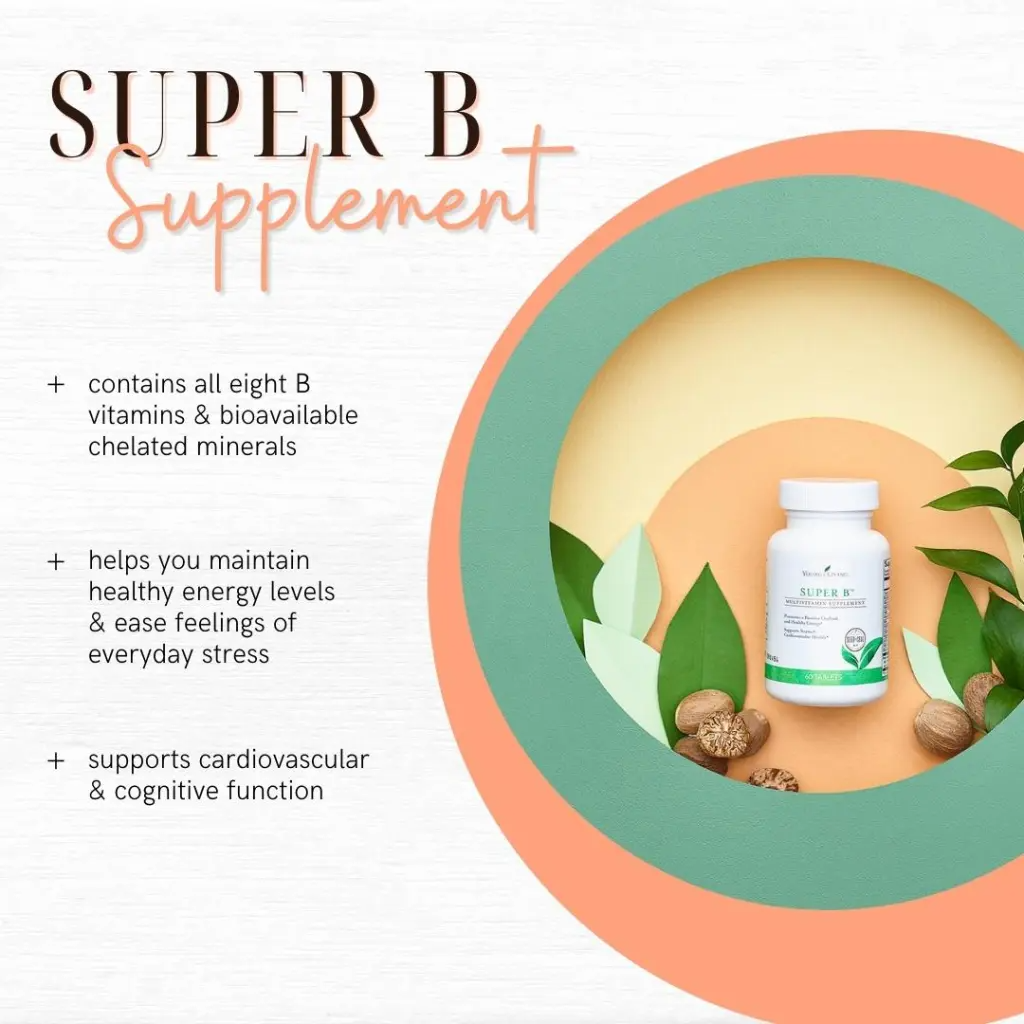 ■ SUPER B
supplement
no. 3240
This supplement was meant for building up the body! As a natural antioxidant, Super B is a complete vitamin supplement that delivers all eight B vitamins, as well as bioavailable minerals such as magnesium, manganese selenium, and zinc, to support a healthy lifestyle. This vitamin supplement provides the energy you need to feel great day in and day out. Super B contains a natural folate source, derived from lemon peels, called Orgen-FA as well as methylcobalamin, a source of B12 that's easy for the body to absorb and utilize. Combined with Nutmeg essential oil, Super B helps maintain healthy energy levels, supports cardiovascular and cognitive function, and can help alleviate the feelings of everyday stressors.
Wait, alleviate the feelings of everyday stressors? Yes Sweet Ones, B complex vitamins help to support a strong and healthy central nervous system so you can calmly walk through the day freeing yourself from the reactions of overwhelm. Fight or Flight mode means we React or Respond. When you respond, you have calm gathered responses based on intellect. When you react, you go immediately into emotional reaction where the results are rarely favorable.
HOW TO USE
• take 1-2 tablets daily WITH a meal (this is very important to take WITH food)
PAIRS WELL WITH
• Super C
• Sulfurzyme
• CortiStop